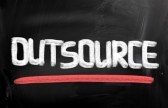 Outsourcing is defined as the process of obtaining goods or services from a supplier outside of the internal source. Many companies outsource a number of processes, such as manufacturing, content writing, customer service, support, marketing and more.
The roots of outsourcing date back to the earliest times of business. Many of the first manufacturing companies hired outside companies to create specialized parts used in their final product.
Examples of Outsourcing
Automakers – Outsource parts and assemble them to create a vehicle.
Clothing Manufacturers – Outsource the production of buttons, zippers and other accessories.
Online Business – Outsources design, content writing, support and many other parts of the business.
There are many benefits to outsourcing and some even use this process as a way to get the best of the best for every part of their company. Outsourcing tasks to experts in specific fields can not only save a company time and money, but also provides the benefits of a higher quality good or service.
Outsourcing can also allow a business to focus on the things they are best at. For example, a hosting company may outsource their technical support to an expert support company, so that they can concentrate on building their customer base. Maybe the owner of the company specializes in marketing, but isn't great at providing technical support. Outsourcing this task not only provides experts for technical support, but it also frees up the owner's time to do what he/she is best at.
Some of the services often outsources by companies include:
Payroll, bookkeeping and accounting
Marketing and advertising
Public Relations
Records
Purchasing
Security
Telemarketing
Customer service and support
Building maintenance
Consulting
Content creation
These are just a few of the many things companies outsource.
The Cost of Outsourcing
One of the major reasons companies use outsourcing is the cost. Most companies can actually save money by outsourcing some of the necessary tasks and more companies are choosing this option today.
The cost of hiring a staff to provide technical support compared to outsourcing this task isn't even comparable. For a hosting company to provide in-house technical support, they have to pay employees around the clock, provide a place for them to work and pay for all the equipment necessary to perform the job. This cost can become very expensive, very fast.
Outsourcing something, such as technical support can be a huge cost cutting measure for a company. Since the company doesn't need to hire employees for this aspect of their business, they won't need to pay them a salary or provide benefits. By using outsourcing, companies can save thousands of dollars every year.
Why Small Businesses Need Outsourcing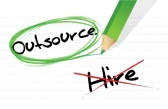 Part of the challenge for a small business owner is appearing larger than a small business. Since this type of company will be competing with all types of larger companies, it's important to gain any competitive edge possible.
Outsourcing provides a viable way for a small business to look larger. A hosting company, for example, could be run by one or two individuals, from their home, yet appear as if they are a huge outfit with a central office.
This is done by outsourcing tasks, such as:
Technical Support
Customer Services
Server Monitoring and Management
Content Creation
And Other Tasks
The owners of the company can outsource every part of their business, except their specialty. If the owners are great at writing, they can outsource everything else and just take care of writing the content for their blog and website.
This can be done with a number of online companies and books have actually been written about using outsourcing to work a very short week. With outsourcing, those working from home can enjoy more time with family and doing the things they enjoy, while running a successful business.
How can Outsourcing Impact Your Business?
No matter what type of business you run, you can find tasks that you can outsource. It could be as simple as hiring a virtual assistant to handle day-to-day online tasks that take up your time. However, you can scale your outsourcing to include anything you are not an expert at.
If you're business is based solely online, you may not need to work as many hours as you think. Create a list of the tasks you can outsource and start looking for the right people to handle the jobs for you.