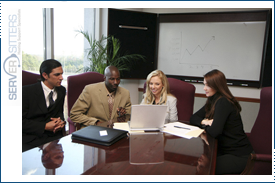 It's no secret that customers who receive great support for their product will want to stay with a company.  Our team's goal is to provide that top quality support to you and to your customers. Here, at Server Sitters, our well trained staff are available around the clock to assist you with any of your hosting support needs.
At times, troubles can arise that are beyond the scope or access of a customer to resolve.  When this happens, it's Technical Support who bridge the gap between a problem and its solution. Our team is comprised of customer service representatives, technicians, and administrators who have worked in these fields for a great many years.  Each member of our team brings skill and experience from a wide range of support, IT and customer service backgrounds to assist both you and your customers.
As important as a solution may be to a problem, making sure your customers can both understand and use the information we share is a top priority.  In doing so, we minimize the number of repeat calls and tickets, ensuring that we can give ALL of our clients the attention they need and deserve.
Meeting Your Outsourced IT Support Requirements
Our goal is to free your time and your pocketbook so you can grow your business or take a much-needed vacation without the worries of managing your own support. We can ensure that your servers will stay up and running with innovation and experience unlike any other in our field.  We offer a brand of support that will benefit your clients with a superior level of service.  With us on your team, you will have more time than ever before to do the things you want to do.  Let us help build your business and save you money!
Our Responsibility to You:
If there is one thing a company needs more than any other to be successful, it is customers. Happy customers will stay with you and help bring in new business. We look after our clients with that in mind. It is not enough for us to just do the bare minimum. We want you to grow, so we can grow with you! Your success is our success. Whatever your support needs may be, we have the right solution for you.