Your call queue is a very important part of the support process. The agent on the other end of the phone line isn't the most important part of the process. Instead, it's the time a customer waits to reach that agent.
It's a very common joke in today's world that you have to sit on the phone waiting for support for what seems like forever. Many articles have been written on the subject, comics have made fun of it and even popular sitcoms, such as Friends have pointed it out in episodes.
Wait times are not due to bad supervisors or bad software, most of the time. Instead, it's usually due to a lack of optimization when it comes to the call queue. Here are a few ways you can optimize your call queue and a better solution altogether.
Provide Options for Callers
When someone wants to speak with an agent, but no agents are available, giving them options is a good way to keep the wait to a minimum. You can provide the option to leave a voicemail, request a call back or transfer them to a different call queue if another agent will be available sooner.
The key to providing options, however, is following through. If you allow customers to leave messages or request call backs, make sure you call them back, ASAP. In fact, you may want to add this as a duty of every agent at some point in their day to ensure customers get called back.
Make Your IVR Simpler
A complex IVR menu makes it hard for callers to even want to continue. They feel like they will never get to where they want to go and it's just going to be dealing with machine after machine.
Any more than three levels of IVR are too much. You don't want the caller to lose tract within the IVR tree and end up where they don't need to go. It's best to have a live person answer, but if you plan to use an IVR, make it simple.
Create Better Workflow
Agents may spend more time with some callers than necessary. While providing great service is a good idea, it has to be done efficiently. The more time an agent is on a call, the less time they have to work through their call queue.
They don't have to rush, but they can still be efficient. It can be helpful to read past notes and see the reasons why a caller is calling, if they have provided them, without having to ask. Looking at past interactions can help with solving the issue quickly and getting on to the next caller.
Use Flexible Call Flows
When setting up phone support, it's necessary to use flexible call flows. This will allow callers to reach agents in the best way and will give agents the best opportunity to work through a call queue quickly and efficiently. The seamless end-user experience should be the goal and customers should be able to get to an agent fast.
Outsourced Phone Support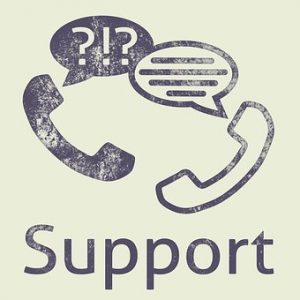 It can be quite a large undertaking for a company to provide support on their own. Setting up a call center could be a great idea, but it could also be the downfall of your company. Some companies have created such a reputation for horrible phone support they will struggle to ever crawl out from under this reputation.
You don't have to go to all the trouble and expense to set up your own call center. Instead, let an expert company handle this for you. Choose to outsource your phone support and let professionals with a great reputation and efficient systems already set up handle everything.
Outsourcing phone support gives you the ability to concentrate on your core business. Support and service are vital to your company, but you don't have to be the one handling them. It's far less expensive and far more efficient to outsource this part of your business to a professional support provider.
You can use the tips above to help optimize your call queue or you can trust a company with experience. When you choose the right company for phone support, you won't have to worry about your customers reaching agents fast or getting the help they need.