When you use servers to host your website and run other facets of your business, you need right team to provide proactive server management. You cannot take the chance of one of your servers going down during a peak or even a non-peak time. With the right management and monitoring, you'll have nothing to worry about.
You face incredible competition every single day and you have to be up for the challenge. Part of competing in your industry includes running a fast, secure website with the most possible uptime. Proactive server management provided 24/7/365 gives you the best chance to keep your site running smoothly without interruption. Here's how this type of server management can help you.
What does Server Management Include?
Server management comes with many different facets, such as migration, development, deployment, customization and more. Every parameter of server management needs to be handled by a professional. It's not a task to give to somebody without any experience.
Many businesses outsource the server management function to experts. They prefer to allow a state-of-the-art data center to handle their servers and the monitoring and management that comes along with them. With the right experts on the job, you won't have to worry about any issues with your servers. Often, the issues that do come up will be handled before you realize there was a problem.
Proactive Server Management for All Companies
Of course hosting companies need to ensure their servers are handled properly. However, many other companies user multiple servers and need proactive server management. Even if you just have one server, you still need the right monitoring and managing.
For hosting companies, it's important to guarantee every aspect of your servers since you have customers counting on it. You need 24/7 server monitoring to ensure your servers are always up and running smoothly.
It's no less important for other companies using their servers to support the online side of their business. If your server goes down, you may lose customers. However, if you have the right staff handling your server management, you won't have anything to worry about.
Choosing the Right Server Management Team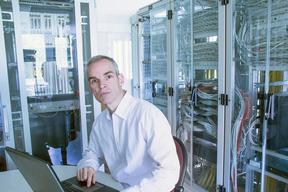 There are several ways to go about getting the right server management team for your needs. You can spend thousands of dollars creating your own server room and hiring the staff to manage your servers. For a much lower price, you can outsource the server management and allow a team of experts to handle your monitoring and management.
Finding the right team means you have to find experience. When experience is coupled with a good worth ethic, the company will provide you with a very proactive server management service.
Another thing you have to look for is a company willing to be proactive. If they are not proactive, you may suffer more downtime than necessary. A proactive team will manage and monitor your servers every hour, of every day and handle issues before they become huge problems.
Make sure you find the right server management for your needs. If you want to use the best, contact Server Sitters today and find out how we can help you with proactive server management and monitoring.